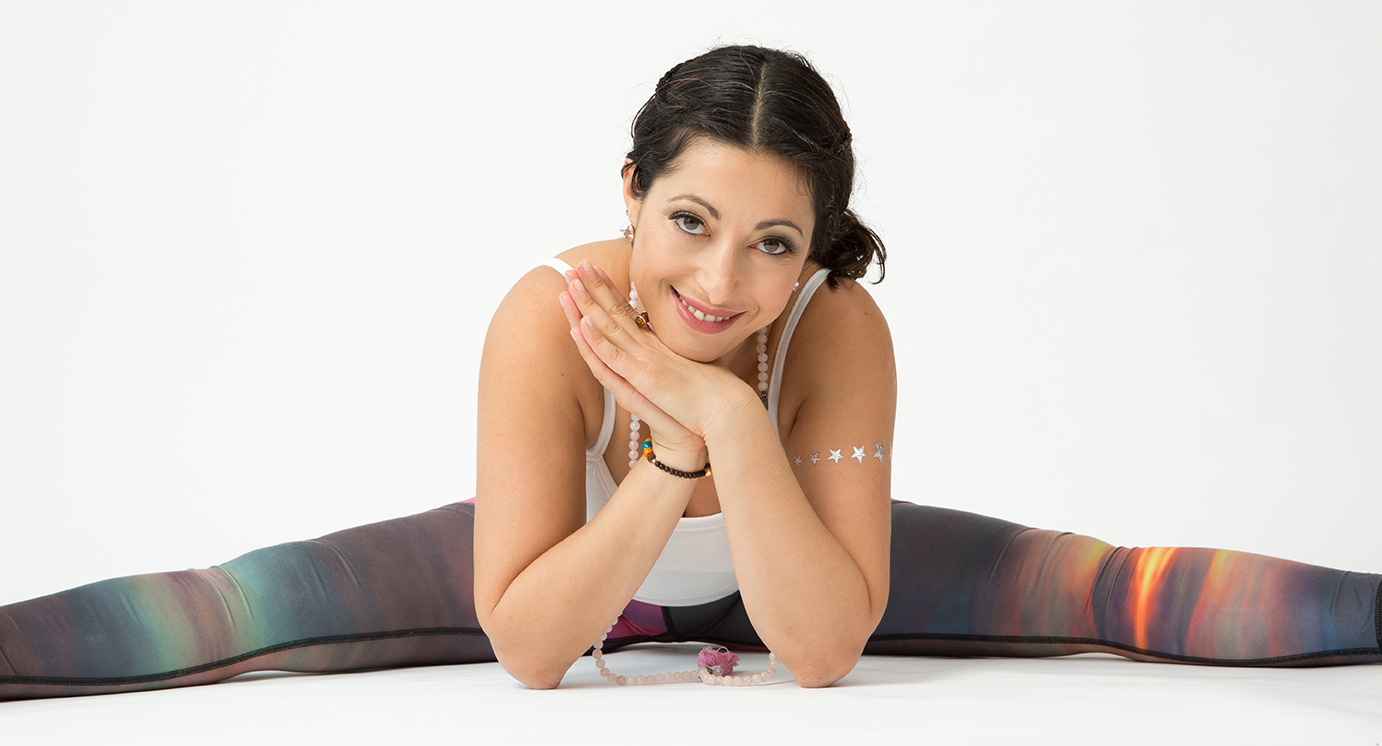 Photos: Eric Benchimol
Yoga teacher, yoga therapist, wellness coach, published author, and healer. Ella has been teaching yoga since 2008. After graduating with a Psychology undergraduate degree and a Masters in Education she worked overseas where she discovered Ashtanga yoga in 2005. Upon returning to Toronto in 2007, Ella completed Downward Dog Centre's teacher training and continues to be guided by Ron Reid. Since then she has studied with various master teachers and has become a certified Phoenix Rising Yoga Therapist and a Phoenix Rising Group Facilitator. In 2010, Ella left a school teaching career to pursue what filled her heart and gave her immense joy, sharing her love of yoga and the healing arts. Her passion and purpose in life has always been to inspire others to delve deeper to uncover their inner knowing and light within so they can lead a life of courage, balance and peace. In a group setting, Ella takes you on a journey to look within with an inclusive explorative playful sequencing, and attention to alignment while weaving in a connection between body, mind and heart. Whether in a class setting or with a client, Ella taps into her vast knowledge, experience and intuitive sense to cater to individual needs.
To make a greater difference in people's lives, Ella operates a successful children's yoga company, Stellar Kids Yoga, spreading the love of yoga to the next generation, and Prana Retreats, leading wellness retreats that include wholesome food, yoga and healing. She is also a contributing editor and writer for Parvati On-line Magazine.
Trainings & Influences
Ron Reid, Marla Meenakshi Joy & Diane Bruni
www.downwarddog.com
My first teachers and Teacher Training in 2007. Downward Dog Centre is my home away from home and Ron Reid is a teachers' teacher whom I have been blessed to study under. His patience, encouragement and intelligent teachings have led me, and many others, to safely grow along my journey where my mind and body feel united and space is created for a deeper level of transformation. In deep gratitude to this space and the beings that work and teach there.
Judith Lasater
www.judithhansonlasater.com
Completed Judith Lasater's Relax & Renew training, and assist her teacher trainings. Judith is one of the pioneers of yoga teachers in the Western world. Stemming from Iyengar yoga, she brings years of experience and wisdom, and exemplifies what it means to be a yogi, teacher and a grounded human.
Phoenix Rising Yoga Therapy
www.pryt.com
Phoenix Rising Yoga Therapy is a deep and transformative holistic modality. PRYT allows one to delve deeper into what is there on the physical, mental and emotional levels by tuning into their body's wisdom. I also completed the Group Facilitator Program and run 8-week sessions to cultivate mindfulness, embodiment and nurturing of the spirit.
Ana Forrest
www.forrestyoga.com
I feel extremely fortunate to have studied with Ana Forrest in her Advanced Teacher Training. She is a fierce warrior that integrates wisdom from her life, shamanic rituals and her yoga background to create yoga teachers that have a deeper intuitive sense, intelligence of body awareness and deeper sense of yoga as a healing modality.
Sora Surya No
www.sorasuryano.com
Sora is a magical being that dedicates her life to empowering women to awaken the feminine, trust their intuition and gain clarity on what they wish to manifest in their lives. I have completed two Radiant Women's Circle trainings that were full of ritual and ceremony to ignite our deepest desires and to celebrate our life and dreams while cultivating the feminine goddess within.
Suzanne Sterling & Seane Corn
www.suzannesterling.com & www.seanecorn.com
These two magical women were pivotal in my transformation to awaken to my truth, deepen my yoga practice to be a prayer for greater peace, and to be of service in my community and beyond. I partook in the Off The Mat, Into world Seva Challenge and was extremely fortunate to head to Haiti with Suzanne and Seane for two weeks in 2012. I also completed the Yoga, Purpose & Action Leadership Intensive with Seane, Suzanne and Hala Khouri.
Vipassana Meditation
www.dhamma.org
Vipassana meditation is a wonderful way to immerse in silence to observe your thought patterns and tendencies, and to go deeper within yourself. I have completed several of the 10-day silent meditation retreats in Ontario, it is not easy, but highly effective and will only serve you for the better.
Jill Miller
www.yogatuneup.com
Jill Miller is a movement and anatomy expert who has revolutionized how we connect to our body on a deep tissue level and created Yoga Tune Up to activate, awaken and heal the body on a deeper physical level so we can do any activity without the wear and tear on the body.
Dr. Paul Ho
www.torontopainandheadache.com
Do not get fooled by the clinic name, Dr. Ho's caring nature and immense knowledge have kept myself and many other active people healthy and mobile through acupuncture and chiropractic adjustments.
Spiritual Work
Parvati Devi
www.parvati.tv
Parvati Devi has been pivotal in my journey. With her loving nature and divine connection she dedicates her life to guiding others towards their evolution to serve as their highest being in this lifetime.
Patricia Arnold
www.mindbodyhealingcentre.com
Patricia is a healer, intuitive therapist and a holistic practitioner. Through her deep compassion, intuitive sense and philosophical knowledge she guides one to connect to all levels of themselves to uncover the root of the suffering and let go of what doesn't serve, to move to more authenticity and peace.
Susan Mann
www.headtoheal.ca
Susan Mann is a genuinely gifted energy worker who taps into your ethereal aura to clear energy that may be stuck, balances your chakras and brings to the foreground what is there to be seen in your aura. There is always divine guidance that leads to more awareness and clarity.
"The attitude of gratitude is the highest yoga."

– Yogi Bhajan