Two Healthy Desserts that Made My Summer!
August 29, 2017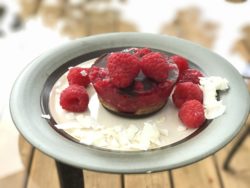 These 2 recipes are SUPER easy with ingredients that we generally already have in our cupboards. My staple ingredients in most of my desserts, raw or baked, are coconut oil, raw cacao powder and maple syrup. In my opinion, maple syrup is the best form of natural sugar you can put into your body.
Blueberry Peach Oat Muffins
Ingredients
1 cup brown rice flour
1/2 cup oats
2 teaspoons baking powder
1 teaspoon cinnamon
2 teaspoon vanilla seeds (I am not a fan of the liquid extract)
2 eggs
1 teaspoon himalayan pink salt
1/2 cup melted coconut oil
1/4 cup hemp milk (any milk is fine)
1/4-1/2 cup maple syrup (homemade at my boyfriend's family)
3/4 cup WILD blueberries
3 peaches, small cubes
Instructions
Preheat oven to 350 and grease the muffin tin with coconut oil. In a bowl combine, flour, oats, baking powder, cinnamon, vanilla seeds, and salt. In another bowl mix eggs, hemp milk, maple syrup and coconut oil. Add the dry mixture to the wet mixture and stir well. Add the fruit, then scoop the mix into muffin tins and bake for 30-35 minutes. I keep mine in the freezer for snack between classes:-)
RAW Chocolate Raspberry Almond Cups
Ingredients
2/3 cup raw cacao powder
1/2 cup coconut oil
3/4 cup maple syrup (can be less)
1/3 cup almond butter
1/2 cup mashed raspberries (by hand)
Instructions
Heat raw cacao, coconut oil and maple syrup till melted. Pour 1/2 the mixture into 6 cupcake holders. I am in love with the silicone baking ware! Place in the freezer for 20 minutes.Then place a tablespoon of almond butter into each cup and spread. Put back into the freezer for 20 minutes. Lastly, put the mashed raspberry and the remaining chocolate sauce. Keep in the freezer, taking out approximately 20 minutes before eating. SO SCRUMPTIOUS!!!